The extraordinary 2018 releases from this iconic northern Rhône producer have arrived. Limited availability. Get yours now.




View online
NEW ARRIVALS • 2018 vintage

Hervé Souhaut

Filligreed, crystalline northern Rhône gems from one of the region's most celebrated icons

. . they are utterly beautiful, elegant creations, made from old vines with very little sulphur dioxide added . .
— Jamie Goode

These are wines on the edge, both technically in terms of winemaking as well as idiosyncracy in style . . intriguing for their distinctively unadorned profiles and dressed down accessibility . .
— James Molesworth

It's no wonder Hervé Souhaut, who created Domaine Romaneaux-Destezet in 1993, has become a sommelier darling. He makes perfumed, approachable old-vine syrahs from the northern Rhône (St.-Joseph, in particular) and happy gamay from the northern Ardèche. Souhaut's wines have been in the States since 2002, but over the past few years they've started to sell out on arrival.
– Megan Krigbaum, PUNCH

Hervé Souhaut established Domaine Romaneaux-Destezet in 1993 and since then has developed a reputation for producing some of the finest examples of limited-production wines that the Northern Rhône valley has to offer.


His tiny estate sits on acidic granite soils, and includes a swathe of vines that are between 50 to 100 years old, which Hervé cultivates using a blend of organic and biodynamic techniques.


Hervé Souhaut (er-vay-soo-auw) met his wife Béatrice while he was studying biology in Lyon. Béatrice's family owns a farm and vineyard near Arlebosc in the Ardèche, a hamlet that apparently no one outside of the village has heard of, located a 30-minute drive from St.-Jean de Muzols, up a hairpin-turn-filled road through the stunning, craggy, savage Doux valley.

As Béatrice's parents gradually recouped their vineyards from lease agreements that were ending, Hervé decided to be more than just a weekend winemaker. After studying a bit in Burgundy and learning from his friends (including vignerons Marcel Lapierre and Philippe Pacalet), Hervé started Domaine Romaneaux-Destezet with Béatrice in 1993, adding additional parcels through purchases and new plantings over the years.

The couple converted the cellars of her parents' centuries-old hunting lodge into their winery. They now own four parcels of vines totalling 8.5 hectares in Saint-Joseph, as well as 20 additional acres of vineyards on the plateau, planted primarily to Gamay, Roussanne and Viognier. The AOC wines are labeled under Souhaut's name, while the Vin de France cuvées are named Domaine Romaneaux-Destezet, in homage to the name of Béatrice's parents' estate (Les Romaneaux) combined with her family name (Destezet).

The grape varieties Hervé cultivates are all indigenous to the Ardèche VdP AOC and – here's the important part: they are very, very old vines. Granitic soil rules in this region, with schists in between; and because of the relatively high elevation of the vineyards, the grapes are marked with sound natural acidity. Harvesting by hand is implied both by philosophy and situation of his steep hillside vineyards.


. . all the wines possess energy. They do not suffer "palate drag" whereby excessive fatness, sweetness, extraction, bitterness, alcohol or wood seem to hold back the very essence of the wine or cause our tongues to negotiate superimposed textures and flavours.
— Doug Wregg

. . it is complex, yet smashable . . It is also affordable.
— Jamie Goode


Souhaut's reds are vinified in inert tanks, with whole bunches going through a long, cold maceration before undergoing semi-carbonic fermentation. Malolactic is usually done in tank as well. From there the wines are moved to used barrels for a brief six to eight months of aging. The whites are barrel-fermented (but no new oak) and also see the same brief élevage.

"I just don't like the taste of oak, and don't want the wines marked by oak," says Hervé.

His philosophy is to compose a balanced set of tannins from the grapes, to make wines with subtlety and finesse. This stands in contrast to many of the storied wines of the Northern Rhône which are made with much more extraction of tannin, designed to be practically undrinkable in youth but to soften and open with time. Hervé prefers to make a wine that is balanced and expressive from the outset, highly drinkable right away yet with structural elements intact, sufficient to evolve positively with bottle age. (A 2003 Sainte Épine tasted at the domaine proved this point.)

Souhaut's methods in the vineyard and cellar are uncontrived. His wines are informed by his time learning his craft from the godfathers of natural winemaking, the sagely Jules Chauvet and his equally iconoclastic disciple the late Marcel Lapierre. Subsequently, Souhaut worked at Dard & Ribo, another cult natural wine outpost at Tain-l'Hermitage in the Hermitage enclave, before starting out on his own. The association with Dard & Ribo remains a close one. They are now colleagues, producing another line of wine by way of collaboration.



Every release by Souhaut is a treasure and we are thrilled to offer the new vintage of these favourites of ours to you today. Top to bottom, Hervé Souhaut wines are appealing in their wholesome purity and upfront delectability. Even the "simple" Vin de Pays is stunning, punching well above its weight, displaying the effortless finesse that Souhaut is famous for, without sacrificing strength or complexity. The single-vineyard Saint Josephs are deep, pristine beauties that redefine, or rather elevate, the appellation. They are as immediately compelling as they are cellar treasures.



The offer is valid until 2 April 2020. Orders will be processed subject to availability and final written confirmation. Allocation rules may apply. Full payment is required no later than 7 days after confirmation invoice is sent in order to confirm the purchase. No reservation is allowed. All terms and conditions apply.

The Offer

- OFFER VALID ONLY UNTIL 2 APRIL 2020
- ALLOCATION RULES MAY APPLY
- PRICES ARE QUOTED NETT in SGD
- SUBJECT TO FINAL WRITTEN CONFIRMATIOn

** labels/PHOTOS MAY not represent actual vintage **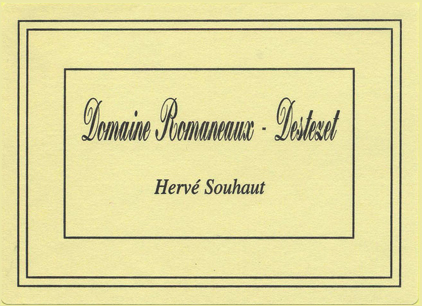 "Domaine Romaneaux-Destezet" Blanc VdF 2018
S$ 51 / 750 ml for 3-bottles or more
S$ 55 / 750 ml
A blend of Viognier and Roussanne grown on schist soils. Vine age ranges from 12 to 100 years old. About 4,000 bottles made. Grapes are hand-harvested and undergo a very long maceration at a low temperature. The wine is fermented in wooden tanks and aged on fine lees in second-hand oak casks for eight months. The wine is bottled without filtration.

". . yellow robe; peach-elderflower, nicely ripe nose that carries an open blush of first youth from the sun of the year, a note of fennel, too. The palate offers good mixed white fruits, with a smoky note, pliant content, some concentration in the juice. This will go well with white meats, Asian cuisine. The close is round, calm. I give this until 2025-26." Jonathan Livingstone-Learmonth, DrinkRhone.com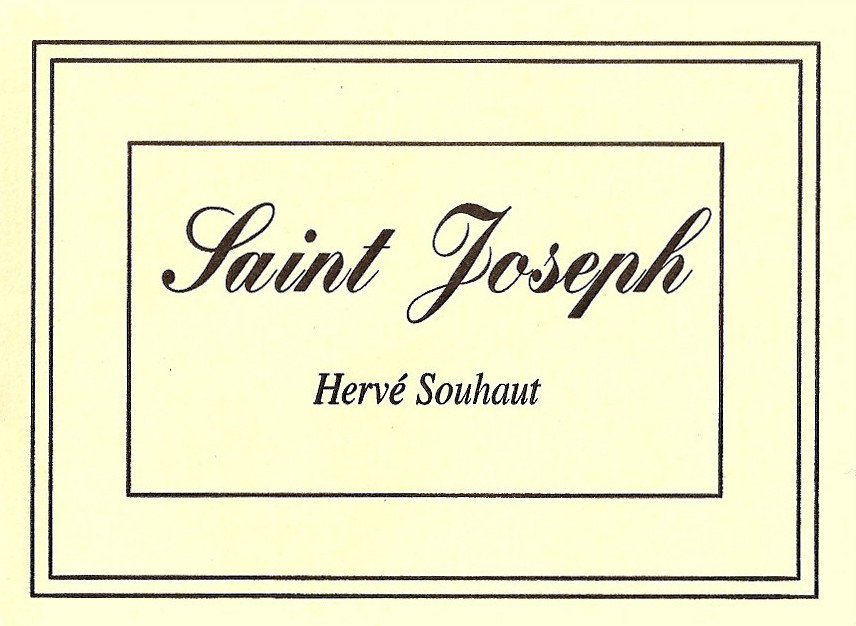 Saint Joseph Blanc 2018
S$ 83 / 750 ml
100% Roussanne from Les Cessieux vineyard. South-facing, steep granitic soils. Extremely limited yield.

Previously rated Vinous 91 points (2016, 2015, 2014)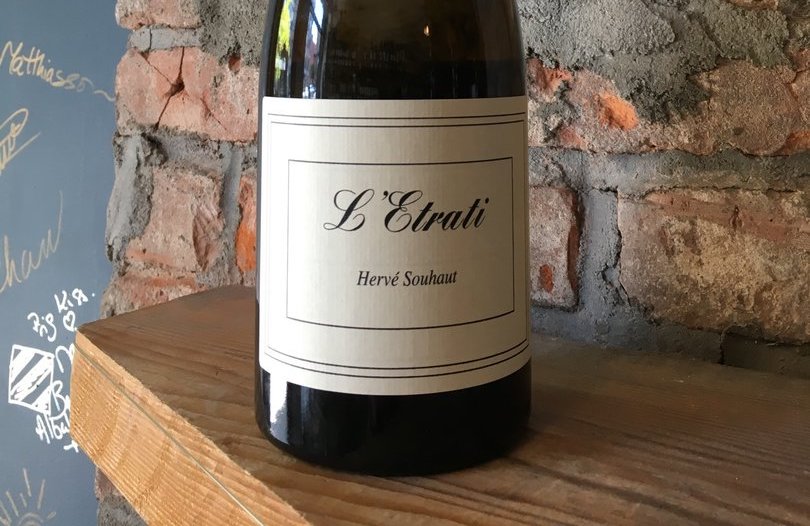 "L'Etrati" Blanc 2017
S$ 85 / 750 ml
A debut Saint Joseph blanc cuvée made of old-vine Roussanne, released only after extended ageing. Very rare.

"La Souteronne" (Gamay) VdP 2018
S$ 55 / 750 ml
100% Gamay from 60- to 80-year-old vines in the northern Ardeche. About 3,000 bottles made. Grapes are hand-harvested and undergo a very long maceration at a low temperature without destemming. The wine is fermented in wooden tanks and aged on fine lees in second-hand oak casks for eight months. The wine is bottled without filtration.

". . good red robe; has a raspberry, minted aroma, a hint of licorice . . The palate comes with tender fruit, gives real fruit gum pleasure, strawberry prominent, the close rounded. This is serene, most charming, has good grip and a salted touch on the finish." Jonathan Livingstone-Learmonth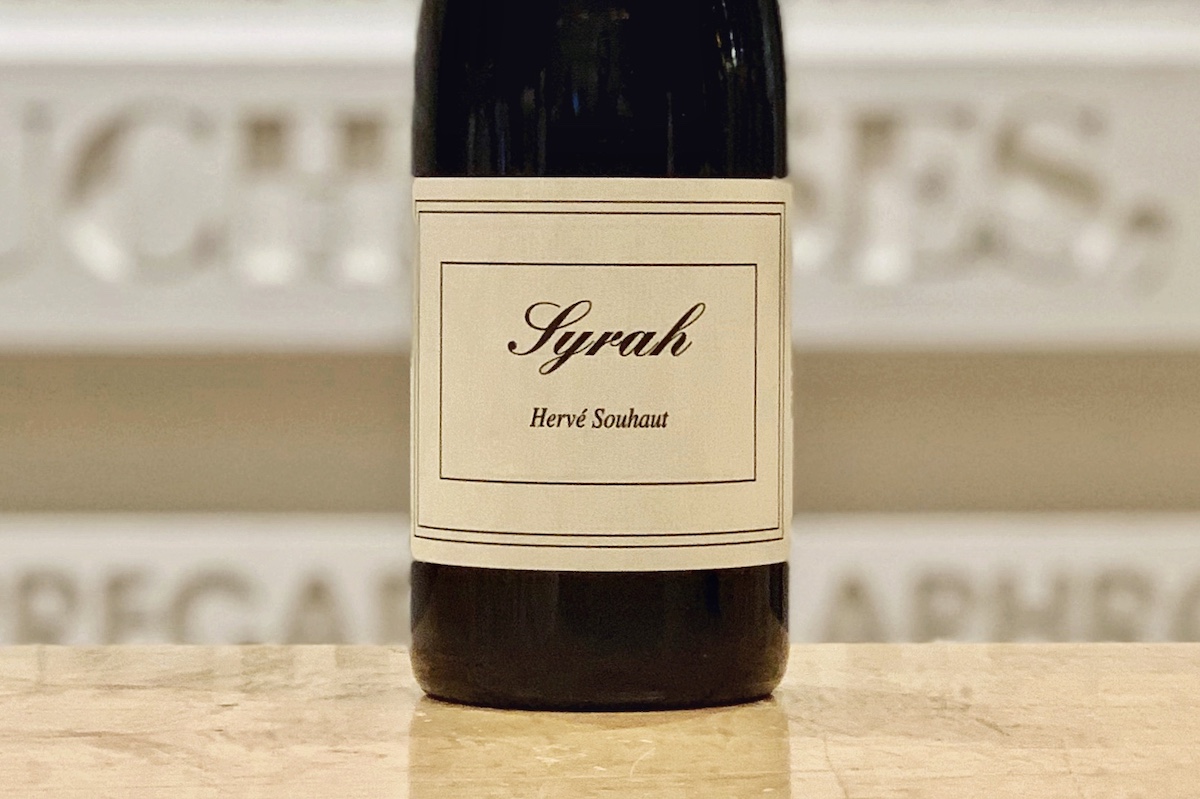 Syrah VdP 2018
S$ 51 / 750 ml for 3-bottles or more
S$ 55 / 750 ml
S$ 125 / 1,500 ml – Magnum

100% Syrah from 30-year-old vines, a blend of multiple vineyards. Grapes are hand-harvested and undergo a very long maceration at a low temperature without destemming. The wine is fermented in wooden tanks and aged on fine lees in second-hand oak casks for eight months. The wine is bottled without filtration.

". . red robe. Elderberry, blackberry, neat black pastille appeal on the nose, a backdrop of beef stock adding dimension. The palate gives bright black berry-violet fruit, in the instant, will please unconditionally. It continues with a pure thread, finesse in the late juice. This performs as well as ever." Jonathan Livingstone-Learmonth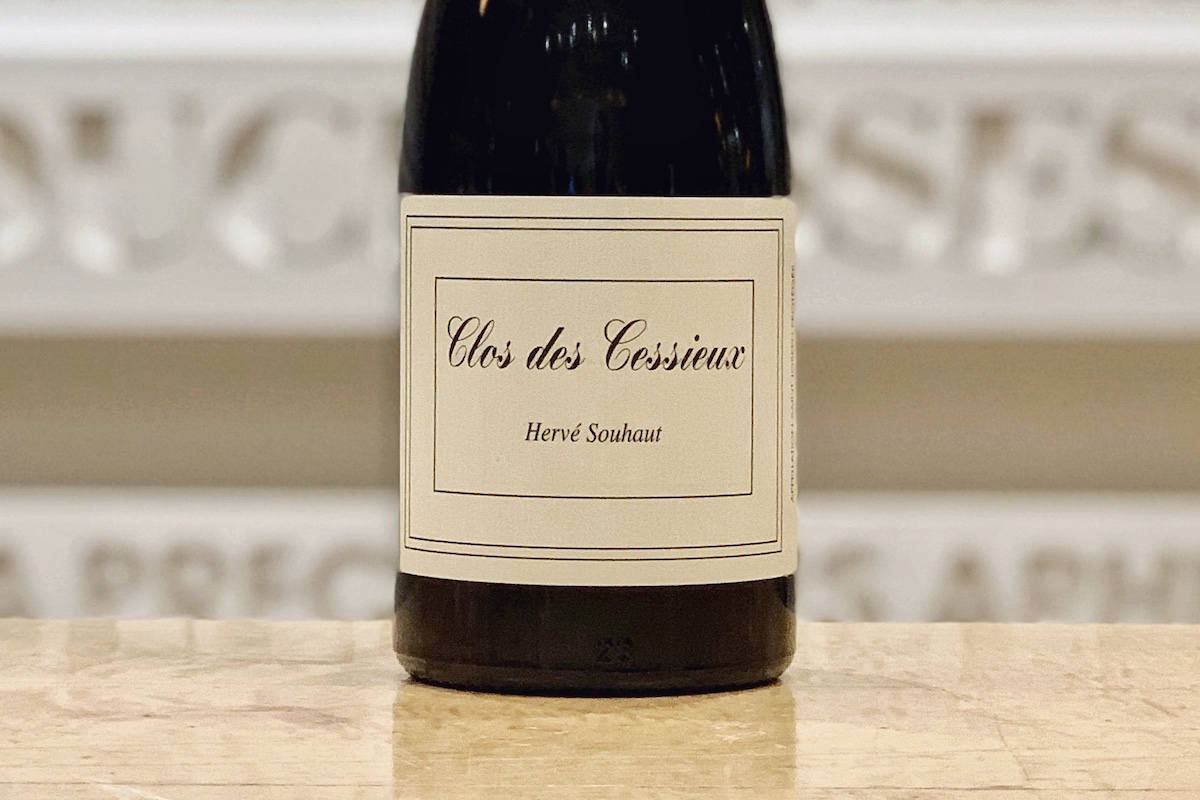 Saint Joseph "Clos des Cessieux" 2018
S$ 79 / 750 ml for 3-bottles or more
S$ 83 / 750 ml
S$ 187 / 1,500 ml – Magnum

100% Syrah from Les Cessieux vineyard. Debuted in vintage 2013. 30-year-old vines on a 1.5 ha plot just below the vineyards owned by Raymond Trollat, one of the Rhône's great (and now retired) traditionalists. North-to-southeast facing, steep granitic soils. From vines that Beatrice's grandfather owns (along with all the other vines). A few decades ago, before he knew Hervé wanted to make wines, he had rented that parcel out with a 25-year lease. These vines weren't worked organically until Hervé got the vines back in 2013. Hervé says the soil in St Joseph is very rocky with very little soft soil that retains chemicals, so he thinks the chemicals have now washed out of the parcel.

"The 2018 Clos des Cessieux, as it has always been, displays a highly floral aromatic profile and high-toned spices. This is a classic northern Rhône syrah, tense and bright, with an irresistible cool-fruited elegance. A rather Zen rendition of this impressive vineyard and one of the finest ever produced by Souhaut — yet. So lovely." AC
". . dark red; the bouquet is aromatic, has a gentle air that is floral, holds very well, is lucid and floating, on black fruits. The palate is more tenacious, close-knit, with firm tannins, ways to go, good iron inside, and potential. This is handsome wine with fine juice and floral nudges on the aftertaste, is true to its place. From late-2020, though I don't think many people will wait that long." Jonathan Livingstone-Learmonth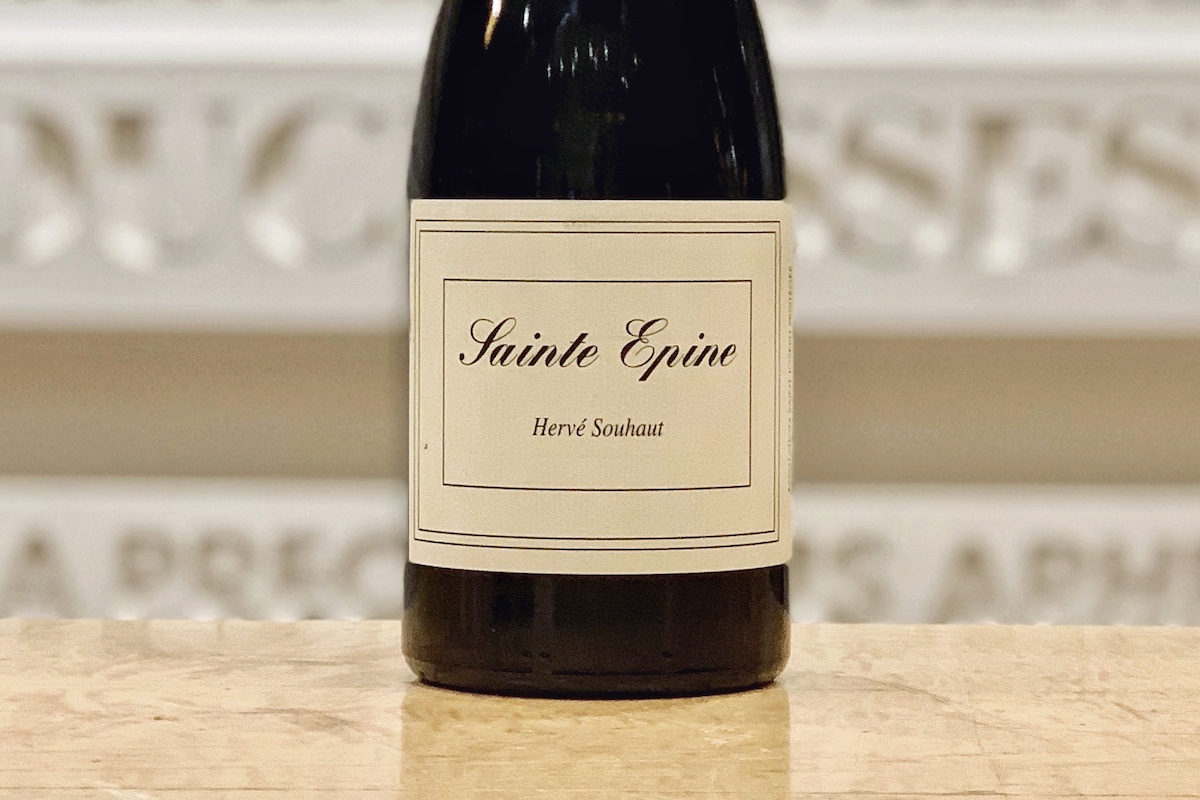 Saint Joseph "Sainte Épine" 2018
S$ 90 / 750 ml
S$ 205 / 1,500 ml – Magnum

100% Syrah from Sainte Épine vineyard, considered the finest in Saint Joseph. Very poor soils with perfect exposure like Les Bessards in Hermitage. Less than 1,500 bottles made, from vines of up to 100 years in age. The proximity of this famous south-facing slope to the Hermitage hill, along with the recognised quality of its terroir, means that it produces the finest and most mineral expression of Saint Joseph.

"A deeply complex nose of black fruit, olives, meats and black pepper prelude an equally complex palate. The fruit is perfectly ripened but there is no hint of over-exuberance. If anything, Ste Épine's very old vines has tempered the incredible reservoir of stuffing with a gentle, cool elegance. Even the abundant fine tannin structure is buried underneath the sweet fruit. Really complex and as good as a Ste Épine as we could remember. Wow." AC
". . dark red; mulberry/raspberry combine on the nose in a good, open delivery, has a sweet curve to it. There are southern, black olives and what approaches herbes de Provence notes that I am associating with the sun-filled 2018 vintage. The palate has a delicate debut, holds fine red fruits, a good stream of tannin, some light grain crunch on the close. Its strength creeps up on you – there's definite mass here. Wait: it will unfurl well." Jonathan Livingstone-Learmonth
TERMS & CONDITIONS

Prices are quoted nett in Singapore Dollars (SGD), ex-Singapore, valid until 2 April 2020.

Prices are for single bottle size (750 ML) unless otherwise specified.

Orders will be processed subject to remaining availability and final written confirmation.
Confirmation may take 1-2 working days. Allocation rules may apply.

Full payment must be made no later than 7 days after invoice date to confirm the order. We reserve the right to redistribute wines ordered not honoured by timely payment or sufficient mutually agreeable notice.
This offer is non-transferable and cannot be used in conjunction with other offers and/or promotions.
Wines sold are not returnable.
Delivery fee is waived for purchases over $500 before GST in a single receipt to a single Singapore address. Otherwise S$25 delivery fee per address applies. Please allow a few days to coordinate collection or delivery.
Order(s) are to be collected/delivered within 1 month upon completion of sale. Failure to take delivery / collect goods will result in storage fees being charged to your account.
ARTISAN CELLARS MARCH 2020 WINE LIST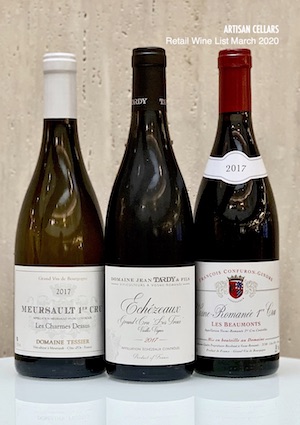 This list outlines a compilation of artisanal wines that we carry. We take pride in the sourcing and provenance of our wines, from the most affordable to the higher ends. As importers, most of our wines come direct from the estates. We are proud to work with the most respected growers from every wine region, each of them representing the very best that their respective appellation is capable of producing. To augment our list, we occasionally include quality wines from only impeccable sources. Regardless of point of origin, we are always committed to shipping and storing them in ideal cellar conditions. Please email us at sales@artisan-cellars.com or call us at +65 6838 0373 to enquire about exact availability of wines, or to find out anything you wish to know about our wines.

---