Jura's most notable name, Domaine Tissot, are coming to town. Get them now. The wines are available for delivery in early January.



View online
THE JURASSIC FILE • JANUARY AVAILABILITY

Bénédicte &
Stéphane TISSOT

Jura's foremost ambassadors & their iconic single-vineyards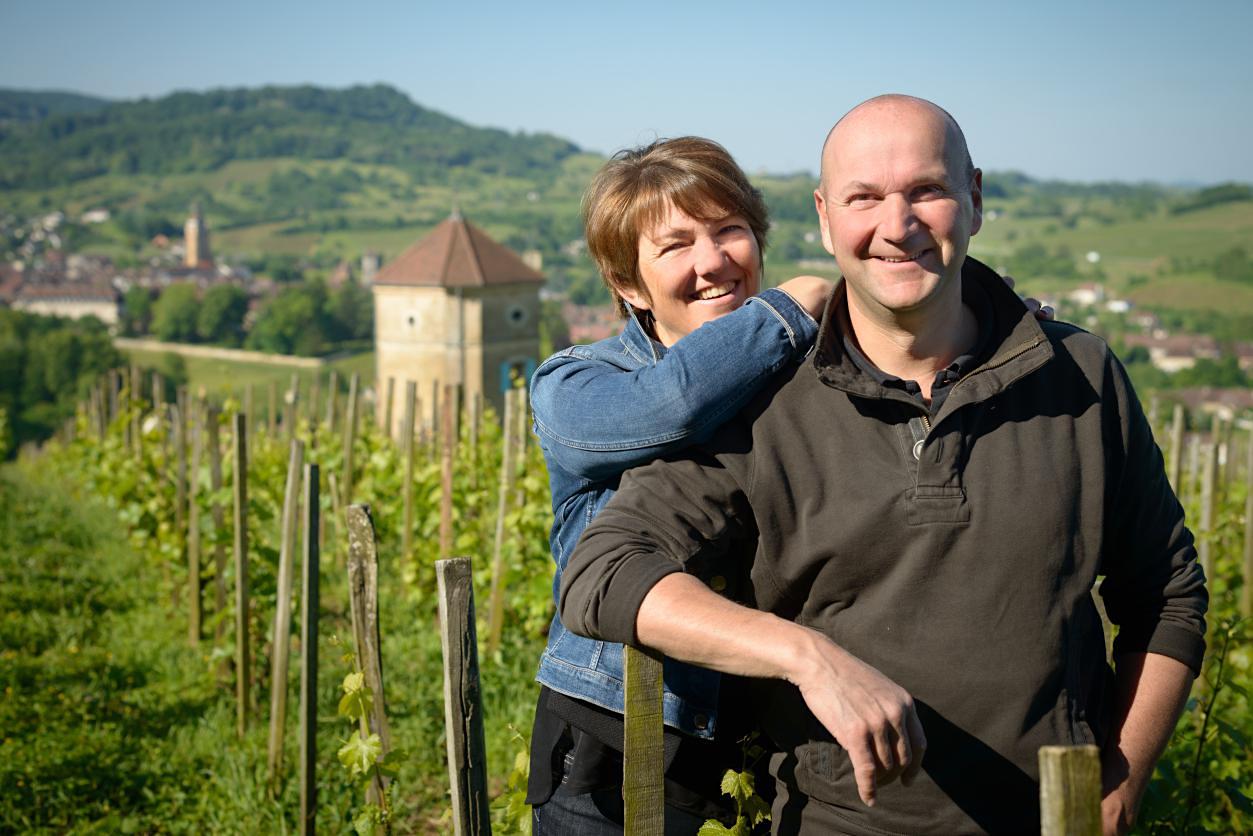 Bénédicte & Stéphane Tissot
How do you describe Stéphane Tissot? Perhaps 'human firework' comes closest. He fizzes and crackles with energy, bonhomie, positivity and creativity, and he and his wife Bénédicte have, in the 25 years since he took over from his father, turned this into one of the finest French domains in any region.
— Andrew Jefford, Decanter

Full of personality and character, these are the sorts of wines that keep me excited about the job I do, not because they are the world's greatest ever wines, but rather because they are authentic and different.
— Jamie Goode, The Wine Anorak

They produce the kind of wines that make a wine-writer think, "Oh, yes! This is why I love wine!"
— Danielle Wong, thatslifegourmet.com

The Jura mountains, remain an exotic and remote region for most wine lovers, even those who may know a considerable amount about French wine. Propitiously situated in the east-central France, right smack between Burgundy and Switzerland, the lower slopes of the Jura mountains are among the most beautiful parts of viticultural France. They form the eastern flank of the Saone valley, mirroring the Côte d'Or to its west.




The beautiful landscape of Jura (photo: La Revue du Vin de France)


In the last few years, interest in Jura has exploded, as U.S. sommeliers discovered that the area's limpid reds (made from local grapes like trousseau and pinot noir) and distinctive whites (chardonnay and savagnin) were in many cases as good as the wines of the Côte de Beaune, but at a fraction of the price. In no time, Jura's most iconic wine — vin jaune, a pale yellow, nutty, saline dry wine — was appearing on lists everywhere from Eleven Madison Park to Denmark's Noma.

Landscape, grape varieties and methods in the Jura's appellations are unique, and so are the wines, which often lean toward delicacy and elegance. While chardonnay and pinot noir are widely cultivated in Jura and Arbois, the red trousseau and poulsard and the white savagnin are what give the region its distinctive qualities. Savagnin is allowed in all white wine production of the regions but it is the only grape permitted in the unique vin jaune ("yellow wine") and Château Chalon.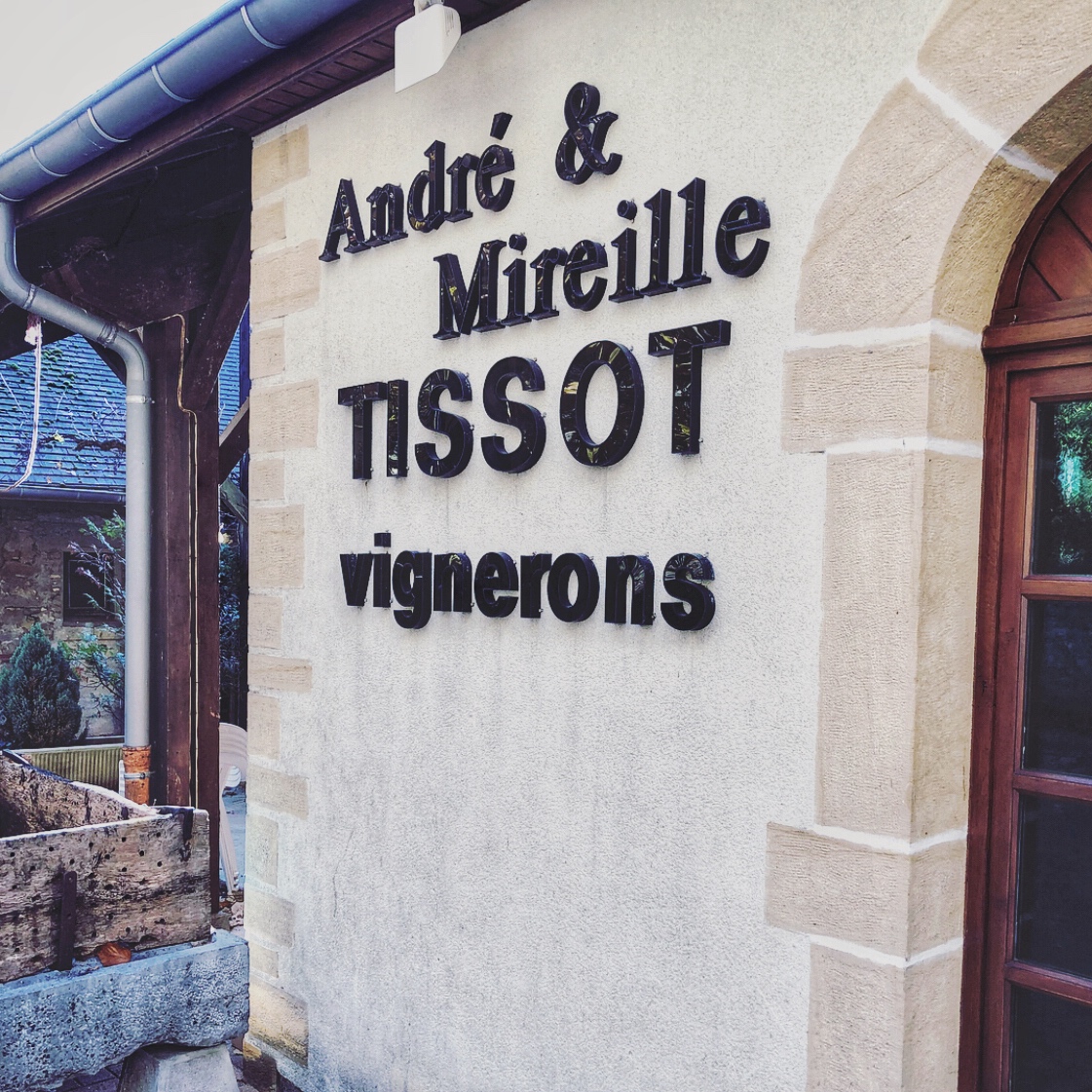 One of the most progressive estates in Arbois is Domaine André et Mireille Tissot, founded in 1962. André and Mireille's son Stéphane, after working at wineries in Australia and South Africa, took over the domaine in 1990 and operates it with his wife Bénédicte.

The domain might still carry the name of his parents, but it is Stéphane Tissot who took the vineyard work and the wines to its widespread fame today. He has accomplished so much. Today, the 46-ha estate produces more than 30 different wines, each a remarkable distillation of vineyard, grape and individual expression. Stéphane Tissot converted the estate to all organic practices in 1999, followed by biodynamic methods in 2004, certified by Demeter. Yields remain limited, however, with a yearly production of no more than 140,000 bottles in a bounteous vintage.

The estate is exemplary especially for the appellations of Arbois, Arbois Vin Jaune, Côtes du Jura, and Château-Chalon. It can also be said that the region owes much of its present status to Stéphane's outgoing dynamism. He is possibly the most amiable and enthusiastic ambassadors the region has ever had, and the excellence of his domaine's wines has certainly helped the cause. Contagiously passionate about his wines and about the great history of the Jura, Stéphane has expanded the domaine's export to an impressive scope. Not even many a great Burgundy domaine can rival Domaine Tissot's presence across the globe.


Stephane Tissot has become the best-known face of his region internationally . . and in their combination of clarity and immediate appeal with intrigue, it would be hard to find either a person or wines more suited to that role.
— David Schildknecht

What a career Stéphane Tissot has been doing since 1990! . . Whatever the type of wine, everything is managed with talent and sensitivity, the flavours are of perfect integrity . . The sampling presented this year demonstrates once again the great mastery of the winemaker . .
— La Revue du Vin de France


The Tissot stable reflects the great diversity of the styles and grapes of the region. Stéphane undertook enormous efforts in the cellar to hone the fruit, substance, and complexity of his wines. He breathed life into the estate, providing the dynamism and focus necessary to produce a complete range of precise, delicate wines with great fruit character. He is a leading grower in the wine appellation of Arbois and Côte de Jura and is rare in offering single vineyard bottlings such as Les Bruyères.

"I'm in the north of the area. I make seven different Chardonnay. Every one is from a different soil — clay, marl, limestone — and each produces a different style of the wine.

"We have been biodynamic since 2004. When you're biodynamic, you have a different life in your vines, in your grapes, and in this way, you can make very easy wine. It leads you. You can keep your yields low, and it increases the minerality. When you drink a glass, you want to drink another one, because they have very nice acidity.

"Most Jura producers make one Vin Jaune. I have enough Savagnin that I make four Vin Jaunes, each from different soils. When you speak about Vin Jaune, you speak about the winemaking, of the style, of the power, of the concentration, but sometimes we miss all the complexity of the wine on every soil. For me, four different Vin Jaunes is a step forward for winemaking."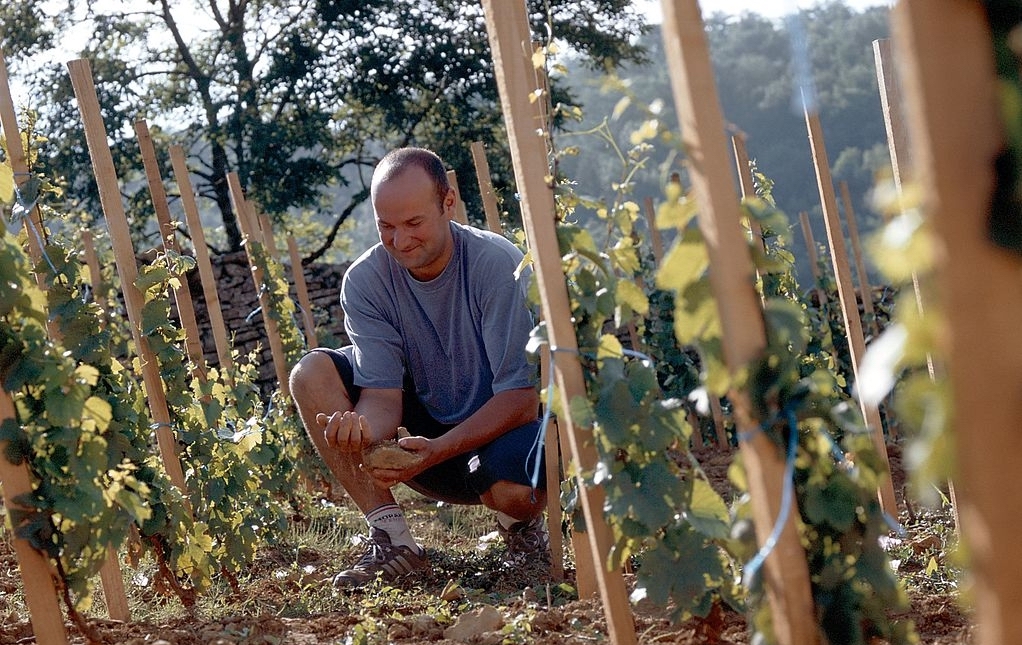 Stéphane Tissot (photo: Getty Images)



We are extremely grateful and happy to offer you this parcel, direct from domaine, due to be available for delivery in January 2019. Stéphane Tissot is a world class producer, respectful of tradition but always striving for improvement. He's incredibly dialed-in and his wines have never been better. Jura fans and all fans of elegant, precise, food friendly wines should not sleep on these special bottles.

These prices are valid until 20 December 2018. Full payment is required no later than 7 days after confirmation invoice is sent in order to confirm the purchase. No reservation is allowed and no further discount. All terms and conditions apply.

The Offer

- OFFER VALID ONLY UNTIL 20 DECEMBER 2018
- PRICES ARE NETT IN SGD, PREARRIVAL EX-SINGAPORE
- SUBJECT TO REMAINING AVAILABILITY AND FINAL WRITTEN CONFIRMATION
- ALLOCATION RULES MAY APPLY

* WINE LABELS MAY NOT REFLECT ACTUAL VINTAGE *

RED
Arbois Pinot Noir "Sous La Tour" 2016
S$ 72 / 750 ml

Manual harvest, whole, maceration 3 weeks in truncated wooden vats. Aging in Burgundy pieces for 1 year (15% new oak). Slight sulphiting after malolactic fermentation, bottling without sulfur, without filtration.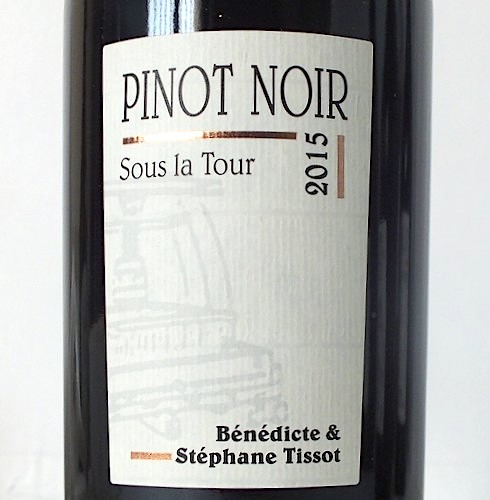 "A Pinot Noir on limestone in its third vintage, the 2016 Pinot Noir Sous La Tour comes from a small plot by the Tour de Curon. Fermented with full clusters and aged in barrique (so he added some sulfur after malolactic), this showed a more restrained nose compared with the other Pinot Noir, which comes from clay soils. It has fine tannins and some bitterness in the finish." WA 92

WHITE
Arbois Chardonnay "Les Graviers" 2016
S$ 72 / 750 ml

From plots composed of limestone and stony scree. The vines were planted between 1952 and 2002, on an area of 1.3 hectares. The aging is done over 16 months in oak barrels of which 30% are new. Pressing of the grapes without de-stemming and fermentation with indigenous yeasts in barrique, without filtrations. Elevage for 12 months on the lees in barrique and 4 months in steel tanks.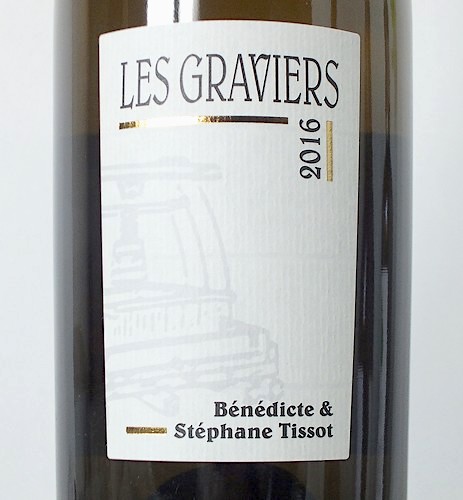 "The 2016 Arbois Chardonnay les Graviers will be bottled in January 2018, so I tasted a provisional blend. This is a bottling from one single vineyard with one single soil, limestone over clay, so you have the spiciness and the volume, the mineral austerity and a very focused and clean character that seems to be the style of the 2016 vintage. Even this unbottled wine showed aromatic and floral, very elegant, open and accessible. This is very nice, but I find less Jura character here than in the Sursis." WA 92-93
"An astonishing biodynamic Chardonnay that takes hold of you from the very first moment your nose gets anywhere near the glass. Not many wines fit the description 'gulpable' but this really does. Candied lemon cut through with a twist of concentrated lime and cut slate. The wine contracts on the finish, thrillingly tense, and keeps you held there for a good five minutes. Can't remember when I've enjoyed a Chardonnay outside of Burgundy more. A wine that makes you want to call your friends to share the good news." (Previously rated 97 points, Decanter)

Côte du Jura Chardonnay "En Barberon" 2016
S$ 72 / 750 ml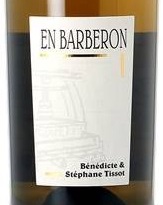 From limestone soil on the surface with marl in the bottom. The 2.05-ha vineyard was planted in 1974 and 1975 with a density of 3,300 vines per hectare. The orientation encompasses both east- and west-facing. The wine was vinified and raised without sulphur. Only 2,270 bottles produced. The wine typically displays complex spicy and smoked flavours, with butter and citrus with clear minerality and great length, hinting at excellent cellaring potentials. Delicious now but will develop for 10-15 years.

VIN JAUNE
"Les Bruyères" Vin Jaune 2011
S$ 133 / 620 ml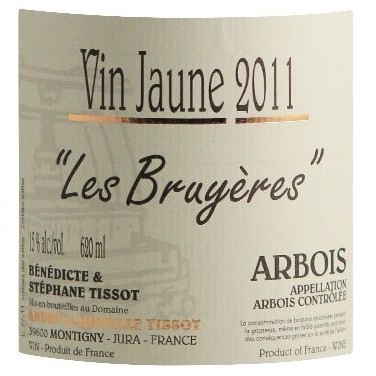 Savagnin coming from a locality called Bruyères, clay soil of the Lias where the Tissot estate has a plot of 80 acres planted 45 years ago. The grapes are harvested by hand and destemmed before vinification in stainless steel vats and the particular breeding of yellow wines: 6 years in old barrels, with a veil of yeast and without topping-up. The process evaporates about a third of the volume.
This is a big wine, sumptuous, full of dense dry extract, complex with spices, nuts and finishing with a remarkable length.

"La Mailloche" Vin Jaune 2011
S$ 145 / 620 ml
Savagnin coming vines located on a hillside overlooking Arbois. This vin jaune (yellow wine) is nicknamed the gold of the Jura. The harvest is late – 2nd half of October – by hand and destemmed before vinification and ageing for 75 months with a veil of yeast and without topping-up. The process evaporates about a third of the volume.
A fine and delicate wine, displaying a magnificent balance between terroir, vintage and vinification method.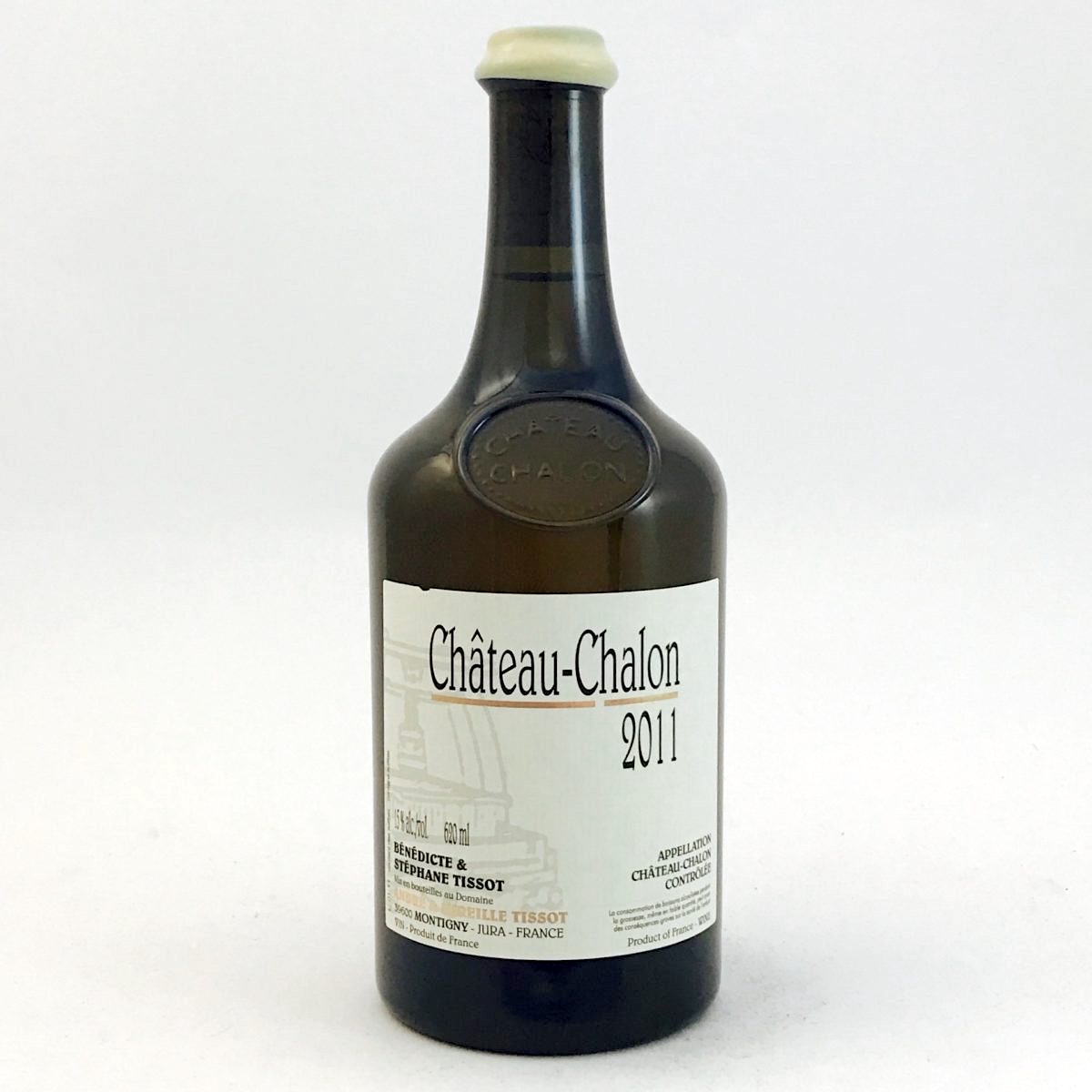 Château-Chalon Vin Jaune 2011
S$ 152 / 620 ml

30-year-old vines on calcareous gravelly soil. The grapes are destemmed, pressed and fermentation naturally in steel tanks before aging it for 78 months in old barriques, of which 72 were done "sous voile" under the flor without topping-up.

"For Tissot, the difference between the two appellations is that that Château-Chalon has 'more finesse, more delicate fruit and more citrus character'. That's certainly true of this magnificent example, still a relatively pale gold in early 2018. There's huge aromatic complexity here, if you just give it a little time to emerge. Notes of moss, woodruff, mint and lemon verbena cushion understated but supportive light citrus fruits – though not, as yet, much nut or mushroom complexity. On the palate the wine almost has the acidic energy and lunge of a Riesling, though the allusions seeping from that acidic force are quite different: crushed stone, green plum skins and green apple with a chicory, acorn or dandelion-sap bitterness. It's resonant, energetic and almost caustic in the mouth, yet there is a little umami warmth too and, given time, you will see a glowing shapeliness emerge. A magnificent Vin Jaune." (Previously rated 97 points, Decanter)
"Château-Chalon opens with an aromatic expression of walnuts, mushrooms, with a background reminiscent of curry spices and lemon. Precise, powerful, complex, with intense flavors of nuts and walnuts balanced by citrus, with a soft peaty background." 94 points, siyps.com

TERMS & CONDITIONS

Prices are quoted in Singapore Dollars (SGD) nett, prearrival ex-Singapore, valid until 20 DECEMBER 2018. No further discount.
Prices are for single bottle size (750 ML) unless otherwise specified. Please note Vin Jaune wines are bottled in clavelin (620 ML).

Orders will be processed subject to remaining availability pending final allocation and written confirmation. Allocation rules may apply.

Full payment must be made no later than 7 days after invoice date to confirm the order. We reserve the right to redistribute wines ordered not honoured by timely payment or sufficient mutually agreeable notice.
This offer is non-transferable and cannot be used in conjunction with other offers and/or promotions.
Wines sold are not returnable.
The wines are estimated to land in Singapore at the end of December 2018, subject to shipper's final notice. Customers will be updated with regards to final ex-cellar Singapore availability.

Delivery fee is waived for purchases over $500 before GST in a single receipt to a single Singapore address. Otherwise S$25 delivery fee per address applies. Please allow a few days to coordinate collection or delivery.
Order(s) are to be collected/delivered within 1 month upon notification of ex-stock availability. Failure to take delivery / collect goods will result in storage fees being charged to your account.
VIEW ARTISAN CELLARS DECEMBER 2018 WINE LIST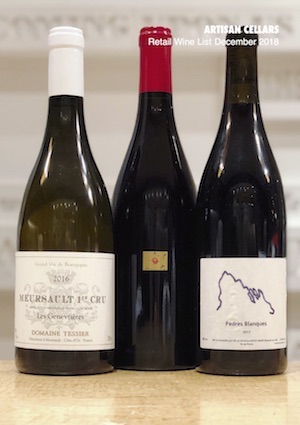 This list outlines a compilation of artisanal wines that we carry. We take pride in the sourcing and provenance of our wines, from the most affordable to the higher ends. As importers, most of our wines come direct from the estates. We are proud to work with the most respected growers from every wine region, each of them representing the very best that their respective appellation is capable of producing. To augment our list, we occasionally include quality wines from only impeccable sources. Regardless of point of origin, we are always committed to shipping and storing them in ideal cellar conditions. Please email us at sales@artisan-cellars.com or call us at +65 6838 0373 to enquire about exact availability of wines, or to find out anything you wish to know about our wines.

---